The Lions have several Eye Glass Collection sites for used eyeglasses that can be donated to needy people around the world. These are people that would otherwise not be able to get eye glasses.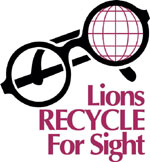 Drop Boxes for Eye Glasses are in the Pharmacy of all the Safeway locations
JM PLaza Safeway, NE 81st & Hazel Dell Ave. Vancouver, WA
Safeway on Main Street, NE 37th St. & Main St. Vancouver, WA
Safeway in Orchards, NE 76th St. & NE 117th Ave. Vancouver, WA
Mill Plain Safeway stores, at Andresen & Mill Plain and at 137th Ave. & Mill Plain in Vancouver, WA
Safeway on 4th Plain, NE 162nd Ave. & 4th Plain Vancouver, WA
Lasiks Eye Clinic, 1325 SE Tech Center Drive Vancouver, WA
Mountain View Eye Care, 14415 SE Mill Plain Vancouver, WA
SW WA Medical Center, North of Mill Plain at 92nd Ave. in Lobby Vancouver, WA
Vancouver Eye Care, 3200 Main St.  Vancouver, WA
Vision Center 700 SE Chkalov Dr. Suite 5  Vancouver, WA
Pacific Optical 16420 SE McGillvray Blvd #105, Vancouver WA
Memorial Campus 33rd and Main St, Vancouver WA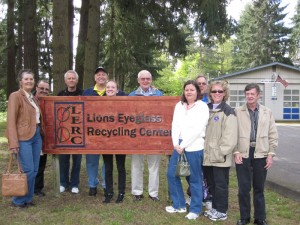 10 members of the Fort Vancouver Lions went to LERC (Lions Eyeglass Recycle Center) in Lacy, WA to learn how the eyeglasses we collect are cleaned, sorted, and tested before being distributed to people who need the eyeglasses.  We had an opportunity to test some glasses, verifying the prescriptions, using the lensomoter.
They were all very impressed with their operation.
As of the time of the visit the Lions Clubs from this region have collected over 900,000 pairs of eyeglasses (just short of 1 million).  Close to 100,00o have been donated to missions throughout the world from this recycling center.